PROFESSIONAL & EFFICIENCY & SERVICE & THINKING & DETAIL
A Local Business Services Supplier - Be Better One of Your Reliable Business Partners.
Small Wholesale Quantity & Flexible Payment Terms.
Bowl | Cup | Ladle | Mug | Plate
1.Stoneware(Common)
can be once-fired or twice-fired. Maximum firing temperatures can vary significantly, from 1100 °C to 1300 °C (2,000 and 2,400 °F) depending on the flux content.
*Characteristic
has a typical "pottery" look, nonporous, opaque, naturally light to dark gray or brown, glazed for decoration.
2.New Bone China(Bone China)
is the strongest of the porcelain or china ceramics, having very high mechanical strength and chip resistance, and is known for its high levels of whiteness and translucency.
*Characteristic
its high strength allows it to be produced in thinner cross-sections than other types of porcelain.
3.Porcelain
is a ceramic material made by heating materials, generally including kaolin, in a kiln to temperatures between 1,200 and 1,400 °C (2,200 and 2,600 °F).
*Characteristic
delicate-looking yet strong, translucent, naturally white
Kinds of Series
the COLOR

Supplier Partners
There are lots of companies and enterprises in this industry in China. And they are mainly distributed in Jiangxi, Guangdong, Shandong, Hunan, Fujian, Guangxi, Shanghai, Jiangsu, Hubei, as the right side green squares showing.
Meanwhile,we have been keeping long and stable business relationship with them on this field. Definitely we can satisfy you on your different requirements about the suppliers and products.Like
Stability of Production Capacity
Quality & Risk Controlled
Duty & Responsibility

All of our items can pass CIQ,CCIB, CE/EU ,EEC, FDA ,LFGB ,SGS , ROHS, CA Prop65 , EC Approved & Test , LEAD AND CADMIUM FREE.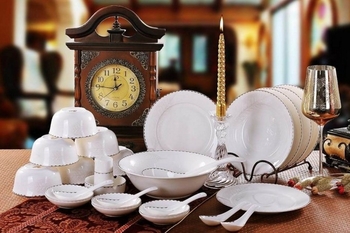 Production Processing
For Mugs:
cutting mud > rolling > connecting handle > cleaning > glazing > hand painting > drying > firing > QC > putting decal > firing decal > finished product
For another items:
preparation of raw materials > practice mud > forming > dry > Repair embryo > prime burn > porcelain Inspection > polished > spray glaze > glaze burning > white porcelain inspection > decals / hand painted > color baked
Washing Instructions

1/with a sponge or a soft cloth to wipe, rinse with water can be.
2/animal fats such as lard, butter, it is recommended to use warm water cleaning (water temperature should not exceed 80
℃).
3/starchy food after being a long time should be soaked with water for some time before cleaning.
4/prohibit the use of wire washing tableware, to prevent scratch glazed.
Care Instructions

1/if scratched, you can use toothpaste polished.
2/if have tea stains, can be soaked for a few minutes with lemon joice or vinegar before cleaning.
3/do not use with conditions of sudden hot or cold.
4/do not use direct fire burning.
5/gently take and put it when using.
Accept OEM & ODM Orders , Please Inquire Us for Latest Quotes.